Object Based Storage Cluster



Ceph Solutions - Object-Based Storage Cluster:
Designed and optimized software-defined storage system
With the advancement of large scale cloud computing platforms like OpenStack, the business of data storage has been forever changed. Often called "the serverization of storage"; the replacement of purpose-built/proprietary data silos with economical server hardware, has proven itself to be both more reliable and more resilient. Supermicro has embraced this change, offering the widest selection of server hardware in the industry.
Ready to Deploy Configurations
1. Role specific server models:

base server configurations offer performance, capacity and density to fit popular storage applications. Components are easily customized to meet specific requirements.

2. Optimized network configuration:

E rack level integration offers streamlined deployment of storage and infrastructure with consistency not attainable using improvised expansion methods

3. Storage/Media Ratios to fit user applications:

deployment of SSD and rotating media allows the solution to meet demanding performance and density targets.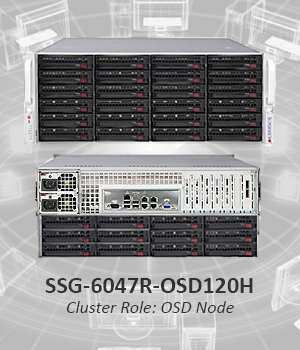 The Inktank Ceph Enterprise Difference.
Organizations prefer object-based storage when deploying large-scale storage systems because it stores data more efficiently. Object-based storage systems separate the object namespace from the underlying storage hardware—This simplifies data migration.
Ceph Optimized Server Configurations
Object and Block Level Storage with S3 and OpenStack Integration
Hybrid Disk configurations deliver low-latency performance
10G Frontend Networking
Bonded 10G Backend Networking (20Gb/s OSD-toOSD)
Out-of-Band Server Management Software (OOB)
Full Rack Integration with Onsite Service Available!
Cluster Role
Monitor Node
OSD Node
OSD Node
OSD Node
Server Model
SYS-6017R-MON1
SSG-6027R-OSD040H
SSG-6047R-OSD120H
SSG-6047R-OSD240H
Key Features

Ceph Optimized Server Configurations
Object and Block Level Storage with S3 and OpenStack Integration

12x 3.5" HDD Bays
Rear 2.5" Hot-swap OS drives (mirrored 80GB SSD)
Dual 10G (SFP+)

36x 3.5" HDD Bays Internal 2.5" OS drives (mirrored 80GB SSD)
x8 SAS2 Connectivity
Quad 10G (SFP+)

72x 3.5" HDD Bays Rear 2.5" Hot-swap OS drives (mirrored 80GB SSD)
x8 SAS2 Connectivity
Quad 10G (SFP+)

Processors
Dual Intel E5-2630 V2 6-Core 2.6G 15M 7.2GT/s QPI
Single Intel E5-2630 V2 6-Core 2.6G 15M 7.2GT/s QPI
Dual Intel E5-2630 V2 6-Core 2.6G 15M 7.2GT/s QPI
Dual Intel E5-2670 V2 10- Core 2.5G 25M 8GT/s QPI
Memory
64GB per node
64GB per node
128GB per node
256GB per node
Networking
On-board Dual Port 10G (SFP+)
AOC-STGN-I2S Dual Port 10G (SFP+)
2x AOC-STGN-I2S Dual Port 10G (SFP+)
2x AOC-STGN-I2S Dual Port 10G (SFP+)
Drive Configuration
4x 300GB HDDs (SAS3)
2X 400GB SATA3 SSDs, 10x 4TB HDDs (SATA3)
6X 400GB SATA3 SSDs,
30x 4TB HDDs (SATA3)
12X 400GB SATA3 SSD,
60x 4TB HDDs (SATA3)
Form Factor
1U w/Redundant Hot-swap 700W Power Supplies
2U w/Redundant Hot-swap 920W Power Supplies
4U w/Redundant Hot-swap 1280W Power Supplies
4U w/Redundant Hot-swap 2000W Power Supplies

 
 
Description
Description
CEPH Turnkey Rack


SRS-42E112-CEPH-01



42U-320TB Integrated Ceph Rack. 3x Mon, 8x 2U OSD, Networking & PDU
SRS-42E136-CEPH-01
42U-1.08PB Integrated Ceph Rack, 3x Mon, 9x 4U OSD, Networking & PDU
SRS-42E172-CEPH-01
42U-2.16PB Integrated Ceph Rack, 3x Mon, 9x 4U OSD, Networking & PDU
Servers
3x SYS-6017R-MON1
9x SSG-6047R-OSD120H
3 Monitor Nodes
9 Storage Nodes
Networ Switch
2x SSE-X3348SR
1x SSE-G24-TG4
10G For Client/Back End GbE For IPMI Network
Power Specification
1x SRK-00PD-02
30A 3PH PDU Dual AC Plug