AMD Opteron™ A1100 Series 64-bit ARM® - processors meet demanding performance requirements, provide energy efficient solutions and enable cost savings for scale-out cloud datacenter, storage and networking infrastructure.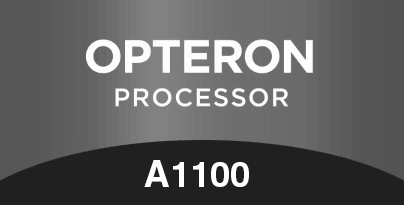 ---
AMD Opteron™ A1100 A-Series
AMD Opteron A1100 Series SOCs leverage AMD's industry-leading expertise in designing enterprise-class server products and build on the rapidly developing ARM software and development ecosystem to establish a new category of high performance, energy efficient processors for cloud computing, storage and networking infrastructure. Enabling datacenter and network operators to leverage highly integrated I/O, energy efficiency and superior compute density, AMD Opteron A1100 series SOCs provide unprecedent.
Key Benefits:
• Inspiring Innovation in the Data Center
• Enabling Scale-Out Performance, Connectivity and Power Efficiency for Lower TCO
• Accelerating Time-to-Deployment of Enterprise-class 64-bit ARM
Key Features:
• Proven ARM-based Architecture
• Flexible, High Performance Memory
• Highly Integrated I/O
• Low Power Enterprise Solution
• Robust Open Software Support