AI and Deep Learning are used for machine learning such as computer vision, speech recognition, language processing and image classification to name a few.




DEEP LEARNING IN DATA CENTERS, CLOUD AND ON DEVICES
Deep learning relies on GPU acceleration, both for training and inference. NVIDIA delivers GPU acceleration everywhere you need it—to data centers, desktops, laptops, and the world's fastest supercomputers. If your data is in the cloud, NVIDIA GPU deep learning is available on services from Amazon, Google, IBM, Microsoft, and many others
---
ACCELERATING AI WITH GPUs
Although machine learning has been around for decades, two relatively recent trends have sparked widespread use of machine learning: the availability of massive amounts of training data, and powerful and efficient parallel computing provided by GPU computing. GPUs are used to train these deep neural networks using far larger training sets, in an order of magnitude less time, using far less datacenter infrastructure. GPUs are also being used to run these trained machine learning models to do classification and prediction in the cloud, supporting far more data volume and throughput with less power and infrastructure.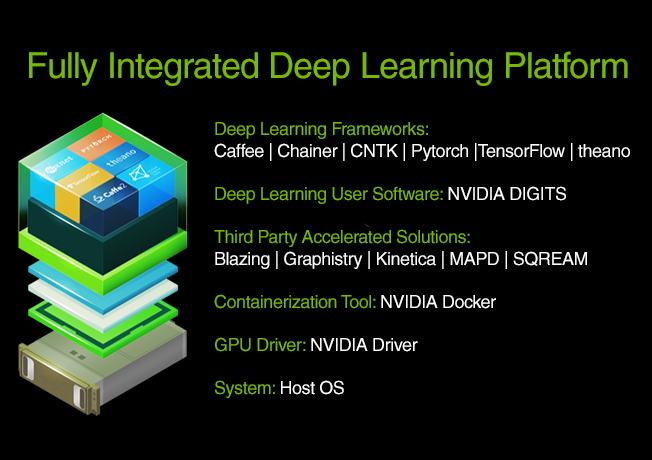 Turn Data into Knowledge
The innovative NVIDIA DGX-1 system lets you uncover patterns in large data sets to reveal new knowledge and insights in hours or minutes..



Stay Ahead of the Competition
NVIDIA DGX-1 is engineered with groundbreaking technologies that deliver the fastest solutions for your deep learning training and AI-accelerated analytics workloads..


Maximize Your Investment
Improve ROI through increased productivity and the enterprise reliability of DGX system. NVIDIA DGX-1 provides the compute power of 250 servers without the hidden cost of traditional systems.


AI Accelerate
Deep learning approach combines advanced AI algorithms, big data and the computational power of GPUs to derive knowledge. Machines are now able to learn at a speed, accuracy, and scale, creating a new wave of artificial intelligence.