NVIDIA Jetson with GPU-accelerated parallel processing is the world's leading embedded AI computing platform. Available products are JETSON MODULES and JETSON Developer Kit.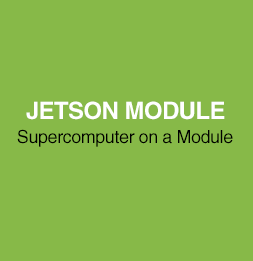 The Embedded Platform for Autonomous Everything.
These are AI supercomputers the size of a credit card that come loaded with incredible performance. They also feature NVIDIA Jetpack, a complete SDK that includes the BSP, libraries for deep learning, computer vision, GPU computing, multimedia processing, and more to accelerate your software development. Jetson modules are supported by the Jetson developer site, which includes documentation, tutorials, and an ecosystem of partners and developers.
Get real-time Artificial Intelligence (AI) performance where you need it most with the high-performance, low-power NVIDIA Jetson TX2. Processing of complex data can now be done on-board edge devices. This means you can count on fast, accurate inference in everything from robots and drones to enterprise collaboration devices and intelligent cameras. Bringing AI to the edge unlocks huge potential for devices in network-constrained environments.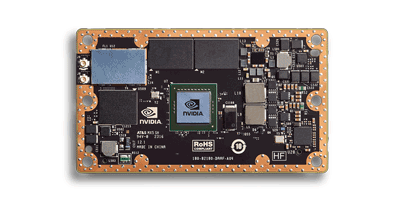 Jetson TX1 Module
This AI supercomputer features NVIDIA Maxwell™ architecture, 256 NVIDIA CUDA® cores, 64-bit CPUs, and a power-efficient design. Plus, it includes the latest technology for deep learning, computer vision, GPU computing, and graphics—making it ideal for embedded AI computing.
Learn More
Jetson TX2 Module
This is an AI supercomputer on a module, powered by NVIDIA Pascal™ architecture. Best of all, it packs this performance into a small, power-efficient form factor that's ideal for intelligent edge devices like robots, drones, smart cameras, and portable medical devices. It supports all the features of the Jetson TX1 module while enabling bigger, more complex deep neural networks.
Learn More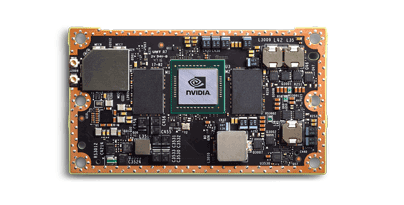 Module Technical Specification
Jetson TX1 Module

• NVIDIA Maxwell ™, 256 CUDA cores
• Quad ARM® A57/2 MB L2
• 4K x 2K 30 Hz Encode (HEVC) 4K x 2K 60 Hz Decode (10-Bit Support)
• 4 GB 64 bit LPDDR4 25.6 GB/s
• 2x DSI, 1x eDP 1.4 / DP 1.2 / HDMI
• Up to 6 Cameras (2 Lane) CSI2 D-PHY 1.1 (1.5 Gbps/Lane)
• Gen 2 | 1x4 + 1x1
• 16 GB eMMC, SDIO, SATA
• UART, SPI, I2C, I2S, GPIOs
• USB 3.0 + USB 2.0
• 1 Gigabit Ethernet, 802.11ac WLAN, Bluetooth
• 50 mm x 87 mm (400-Pin Compatible Board-to-Board Connector)
Jetson TX2 Module

• NVIDIA Pascal™, 256 CUDA cores
• HMP Dual Denver 2/2 MB L2 + Quad ARM® A57/2 MB L2
• 4K x 2K 60 Hz Encode (HEVC) 4K x 2K 60 Hz Decode (12-Bit Support)
• 8 GB 128 bit LPDDR4 59.7 GB/s
• 2x DSI, 2x DP 1.2 / HDMI 2.0 / eDP 1.4
• Up to 6 Cameras (2 Lane) CSI2 D-PHY 1.2 (2.5 Gbps/Lane)
• Gen 2 | 1x4 + 1x1 OR 2x1 + 1x2
• 32 GB eMMC, SDIO, SATA
• CAN, UART, SPI, I2C, I2S, GPIOs
• USB 3.0 + USB 2.0
• 1 Gigabit Ethernet, 802.11ac WLAN, Bluetooth
• 50 mm x 87 mm (400-Pin Compatible Board-to-Board Connector)